Free collection and drop-off service
Call 07931 323167 or 01525 382623
Servicing; Sandhills, Linslade, Billington, Heath & Reach, Town Centre, Clipstone & Brooklands
A secure private field for your dogs' wellbeing
Call 07931 323167 or 01525 382623
Servicing; Sandhills, Linslade, Billington, Heath & Reach, Town Centre, Clipstone & Brooklands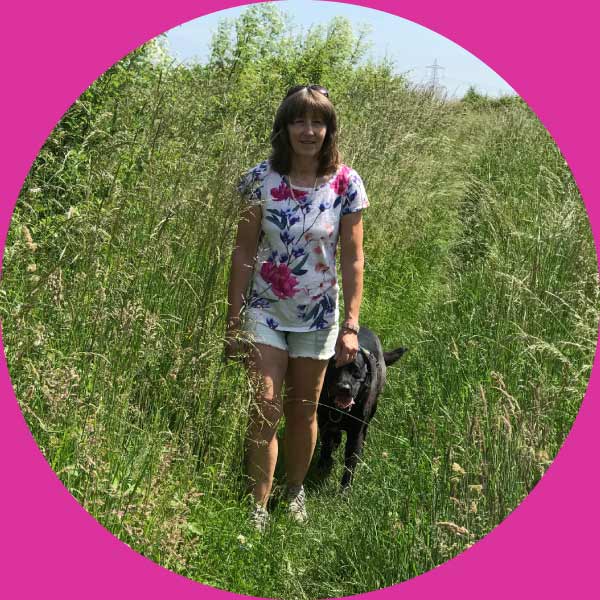 Introduction
Welcome to my Dog Walking and Pet Care Service Biggly Boo. Established in 2013 and still growing I have built my reputation on being friendly, reliable, flexible and offering great customer service. I provide first class loving care for pets.
I'm Mandy and have shared my life with animals since I was born.
I have achieved Level 3 Diploma in Canine Care, Behaviour and Welfare, and am currently studying Level 4 Diploma in Canine Training and Behaviour Management.
My earliest pets that I have a good memory of were two very tolerant and laid back tabby cats called Felix and Twink. I remember my Mum taking me to collect them when I was three years old.
I later went on to owning various other pets including hamsters, rats, mice and a Chinchilla called Hattie.
In my thirties, I bred rabbits and guinea pigs. At one point I owned over forty. One rabbit that I have very fond memories of was a Flemish Giant called Gulliver. A loveable, larger than life character who weighed in at a massive two stone.
I currently own a Black Labrador named Biggles, affectionately known as BigglyBoo who has the honour of my business being named after him.
I have owned my rescue cat Marmite since 2009.
In 2021 two rats called Bowser, and Yoshi joined our pet family, along with a chicken called Arlene.
At Biggly Boo we will look after almost any animal. We currently have over eighty satisfied recurring customers on our books. Some of which include, hens, rabbits, fish, canaries, hamsters, giant African land snail, guinea pigs, tortoises and the obvious cats and dogs.
Amongst the most exotic we have cared for were a Spotted Gecko and a Chilean Rose Tarantula called Susie.
I love to be surrounded by animals, being out in all weathers with lots of furry friend's getting plenty of fresh air and exercise. It's the best job in the world for me.
Biggly Boo's Advantage
At Biggly Boo we have hour long sessions available in our private, secure field.
Our field boasts many benefits for your four-legged family member, including:
Fenced all round so they can play safely together with their companions.
Shade during hot sunny days.
Fresh drinking water available at all times.
Biggly Boo's field is particularly suited to:
Dogs who love a good play off the lead with other dogs.
Those dogs who can't otherwise be let off the lead due to poor recall.
Dogs who just like to sniff and do their own thing.
Puppies who can't walk far and tire easily.
The sessions also offer excellent socialisation with other dogs they know and can become friends with. Various toys are provided to enhance your dog's enjoyment.
Places on these sessions are very popular and highly sought after.
Cat & Pet Care
We are pleased to be able to provide a reliable Cat and Pet Care service. When you can't be there for your pet because you are going away on holiday, business or a hospital stay we can come to your home and care for them. Cats especially are often much happier in their own territory. We can visit once or twice a day.
Cat litter trays will be cleaned out each day, food bowls washed and replenished and fresh water put down. Caged animals will be cleaned out per your instructions.
At your request, we are happy to put your bin out on collection day, open and shut curtains and turn lights on and off. This has the benefit of making your house appear occupied in your absence.
You will receive text/WhatsApp updates every couple of days for your reassurance.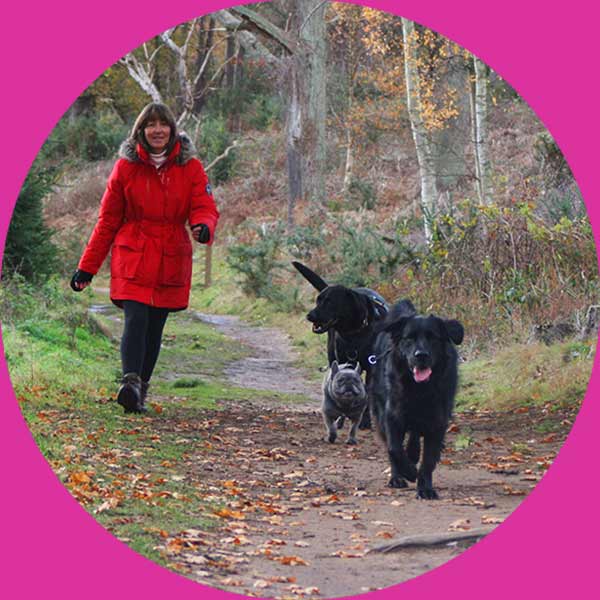 Happy Walks
Only dogs that are compatible with each other will be put together on group walks. Great care is taken when introducing a new dog to a group walk to ensure all the dogs get along with each other.
An older dog that likes a leisurely stroll won't be put with a young boisterous dog who is likely to annoy it. Happy dogs mean stress-free walks.
We provide balls on some walks to enhance your dogs enjoyment.
Group Walks
Only dogs that are compatible will be put together on group walks. A young boisterous adolescent who likes to bounce around with other dogs would not be put with an elderly dog who is happy with a Leisurely stroll, ensuring a perfect stress-free happy walk.
Individual Walks
Some dogs prefer to be walked on their own if maybe they are nervous or perhaps have behavioural issues making them harder to handle and so require individual attention. Individual walks can be requested. There is a slightly higher cost for this service.
Poops & Scoops
Poo bags are provided as part of our service. We will always clean up after your dog whilst we are walking it regardless of where the mess has been deposited, not just on public footpaths.
We check poo to look for any adverse contents such as blood, worms or any odd things your dog may have swallowed. If we find anything or your dog has diarrhoea you will always be notified immediately by text.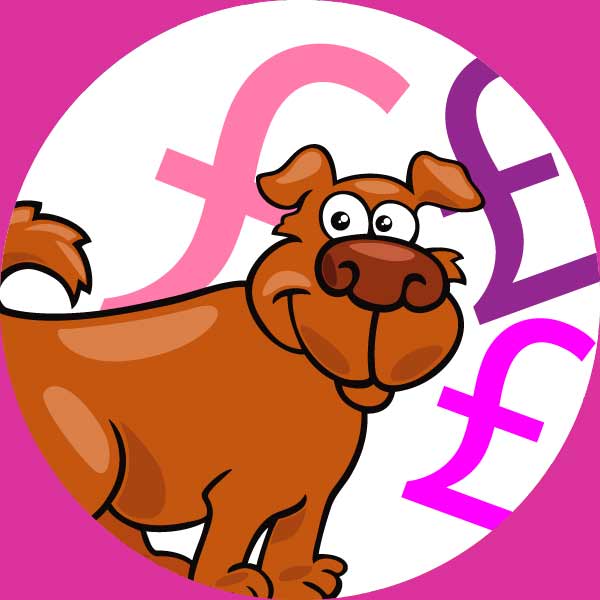 Price list
Dog walking service
1-hour group dog walk £13.00
Individual dog walks 1 hour £20.00
With two or more dogs from the same household the first dog is charged at the normal rate and a 50% discount is applied to the other dog/dogs.
Pet Sitting services
Cat or small pet visits £9.00.
Extras
Pet transportation £15.00 (pet to vet or pet to groomer service).
Weekends will incur a £3.00 surcharge. (per walk or visit).
Anyone wishing to cancel a pre-booked dog walk must give 24hrs notice, otherwise, a cancellation fee will be applied.
Cancellation charges
Dog walking
More than 24hrs notice – No Charge
Less than 24 hrs notice…
Hr walk = £13 cancellation fee
Pet sitting
More than 1 weeks notice – No Charge
Less than 1 weeks notice…
Bank holidays & Weekends £3 extra surcharge per visit.
Christmas Day, Boxing Day, New Years Day and Easter Day are charged at double the weekend/bank holiday rate.
Please see our T&Cs
Payment is accepted by cash, cheque or transfer.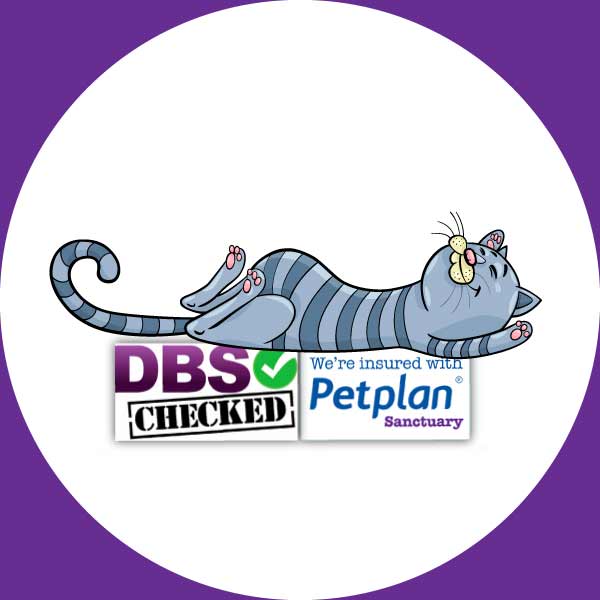 Book with Confidence
We are DBS/CRB Checked and fully insured. Also, I have completed a Cat & Dog 1st Aid course with 1st Aiders and carry a first aid kit on board my vehicle.
You are welcome to leave your spare key in a secret place or give it to ourselves, we only keep your dog's name on the key tag!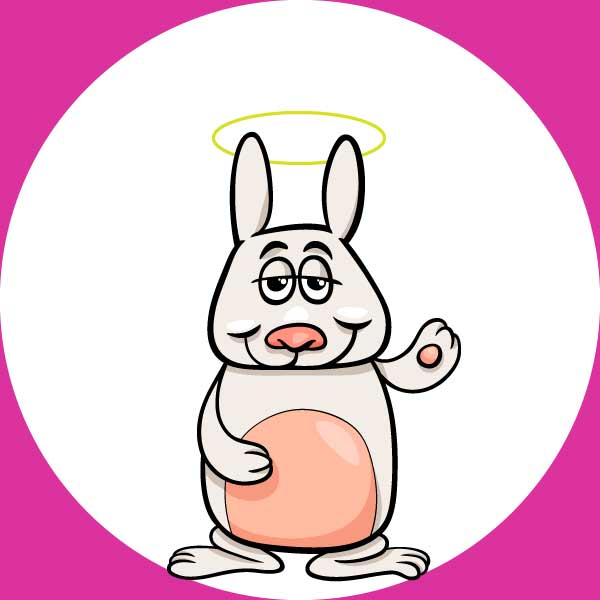 Ethics
I am extremely conscientious and take extreme pride in my Dog Walking and Pet Sitting service in Leighton Buzzard.
Here at Biggly Boo, we understand how extremely precious your pets are to you. They are therefore treated with the same love, care and respect that our own pets receive.
Whilst your pets are in our care every effort is made to keep them safe, happy and content.
If for whatever reason your pet appears unhappy, anxious or in the case of dogs fails to bond with the others we will consult and work with you to find a solution you and your pet are both happy with.
We respectfully request all our new customers sign a copy of our terms and conditions, ensuring total understanding between both parties.
Charlie

Colin and Charlie "I have been using Mandy / Biggly Boo dog walking services for over a year now. Initially it was just... read more"I have been using Mandy / Biggly Boo dog walking services for over a year now. Initially it was just now and then but for the last 8 months or so it has been on a regular basis. I have found Mandy to be completely reliable and always tries to walk my dog at the time I have requested. She is flexible to my needs which can be quite changeable at times as I work shifts, but she has always managed to accommodate my requests without any problem. I need to to know that my dog, Charlie, is going to get some physical and mental stimulation whilst I am at work and using Mandyís services means I donít have to worry. Charlie loves walking with Mandy and is good friends with her own dog, Biggles. I like the fact the Mandy only walks with a small number of dogs, meaning that Charlie gets all the attention he needs.\" Colin & Charlie, Leighton Buzzard

Harley

Fiona and Harley "When you're not able to walk your dog yourself it's so important to know that they are with someone who... read more"When you're not able to walk your dog yourself it's so important to know that they are with someone who cares for them and treats them like their own, and for me that's Amanda. I'm happy knowing my dog is in safe and capable hands, and my dog is more than happy every time she sees Amanda! Top service and Amanda is great. Highly recommend." Fiona. Leighton Buzzard

Bailey

Jez & Bailey "We decided to contact Mandy as our family life had become hectic and I felt our 2 year old golden... read more"We decided to contact Mandy as our family life had become hectic and I felt our 2 year old golden retriever, Bailey, wasn't getting the dedication he deserved. Bailey can be very challenging and boisterous but Mandy is fantastic with him. She has taught him some recall, which I've been trying to for years, and his general behaviour has improved. He is always exhausted after his walks and he gets very excited when Mandy arrives. Mandy is lovely, extremely trustworthy, caring, punctual and clearly loves what she does. Having never had a dog walker before, I now don't know how we would cope without her.\" Jez

Millie

Katie, Adam and Millie "Mandy has been walking our dog, Millie, for two years now. We couldn't be happier with the service she provides.... read more"Mandy has been walking our dog, Millie, for two years now. We couldn't be happier with the service she provides. Mandy is very reliable and Millie loves her. We very much recommend her to other dog owners.\" Katie and Adam. Sandhills, Leighton Buzard

Joey

Rebecca and Joey "I'm delighted with the dog walking and cat visiting services that Mandy regularly provides for our furry family. She provides... read more"I'm delighted with the dog walking and cat visiting services that Mandy regularly provides for our furry family. She provides reliable and caring services and we completely trust her judgment with our little dog Joey. He adores her and his walks with other dogs.\" Rebecca

Trixie

Katherine, James and Trixie "Amanda is brilliant with our dog Trixie, she loves her walks every day. Amandaís very flexible with days and times... read more"Amanda is brilliant with our dog Trixie, she loves her walks every day. Amandaís very flexible with days and times and gives us regular WhatsApp updates on how Trixie is doing on her walks! Trixie has a few behaviour issues, but Amada has been able to deal with these and now sheís better on her walks when we take her out. Highly recommended. \" Katherine & James x

Haze

Haze the Cockatial Mandy recently looked after our cockatiel while we were away. She took time to talk to him which she told... read moreMandy recently looked after our cockatiel while we were away. She took time to talk to him which she told us he responded to - he's not the most tame of birds!! I know he will have loved to see her friendly face, enjoyed the attention and of course his favourite dandelion leaves which he took from her hand - he doesn't agree to do that with everyone! His cage was left in beautiful clean condition and she kept in touch to let us know how he was doing which was great and much appreciated. Thank you, Mandy!

Freddie

Claire & Freddie Hi Amanda, here is your review:I have been using Amanda's dog-walking service for a few months now and would not... read moreHi Amanda, here is your review:I have been using Amanda's dog-walking service for a few months now and would not hesitate in recommending her. Freddie loves his walks with Amanda's dog Biggles and other dogs, but I was so happy to know she never walks more than 3 or 4 at a time, thereby giving Freddie a safe & stimulating hour of exercise each time. It was so important to know he was with someone who really cares for him & treats him like their own.Our regular slot has finished for now but I look forward to booking him in again soon for occasional walks. Claire & Freddie

Pepper

Jo & Pepper Mandy & Grant you are A dream team that goes above and beyond. You have been truly brilliant dog walkers... read moreMandy & Grant you are A dream team that goes above and beyond. You have been truly brilliant dog walkers for our gorgeous Pepper. You've helped her with socializing in groups of other dogs giving her an enjoyable environment in which she can run about & have the best time. Helping her grow in confidence & also us as owners. Offering really useful training advice & imparting knowledge which has been so helpful.It's a testament to both of you that when pepper sees either of you outside of her walking days she knows who you are and can't contain her excitement. Her little wiggle bum almost falls off. I can't thank you enough, you haven't just been dog walkers, you've been friends. I'll always be grateful. Jo & Pepper xx
Get in Touch
Call us on 07931 323167
or 01525 382623
Copyright 2021 Biggly Boo